An archive of suburban Minnesota pilgrimage

Three new reliquary boxes created for Pilgrim CHAT 2021 by Sophie Durbin and Tricky Position

Pilgrims of the early medieval world traveling to the Holy Land transformed sacred topography into collectible artifacts by archiving soil, rocks, and pieces of relics into portable reliquary boxes (see: examples from the Sancta Sanctorum treasure in the Vatican). The boxes allowed travellers to access their devotional experiences by interacting with these blessed materials after their journeys ended. Drawing upon perceptions of place in medieval pilgrimage as well as modern artistic attempts to re-conceptualize place, this digital exhibition transforms materials of the suburban Minnesota landscape into contemporary relics through a trio of artist-made reliquary boxes.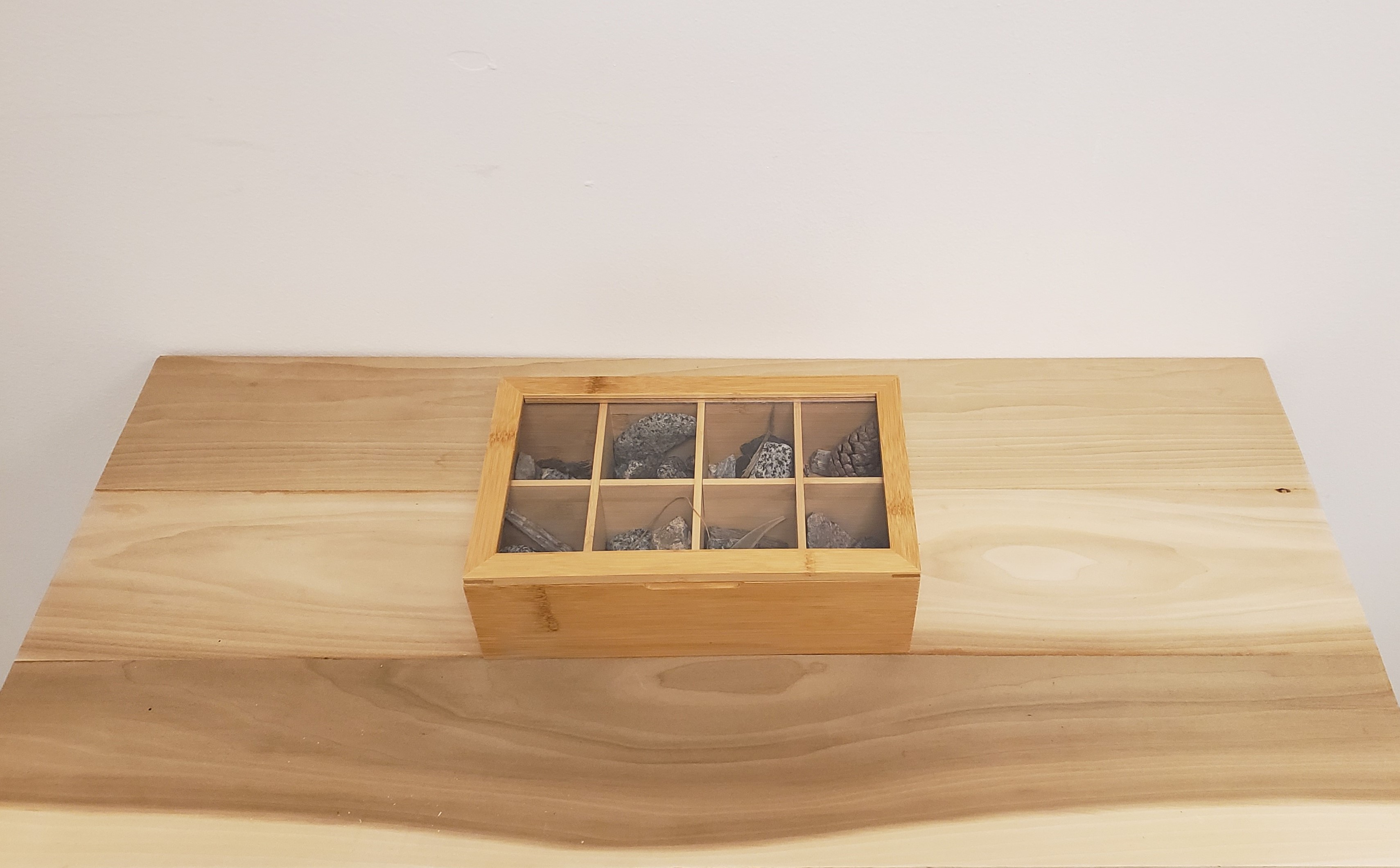 Tricky Position is a creative collaboration between Naomi E. Crocker and Michael Legan.

Naomi E. Crocker is a Minneapolis-based artist, whose work explores the boundaries between seemingly-disparate disciplines. She is drawn to acts of facilitation, but also utilizes performance, sculpture, sound, installation, and text-based practices. Naomi's projects often consider humanity's relationship with language (oral, written & gestural) and she is frequently inspired by linguistic histories, processes, and structures. Naomi holds a B.A. in Linguistics, an M.A. in Second Languages & Cultures Education, and works as both an independent researcher and administrator primarily within museums and cultural organizations.

Michael Legan is a sound artist based in Minneapolis, Minnesota. Michael's work has been featured at the Cleveland International Film Festival, Minneapolis-Saint Paul International Film Festival, PBS, Guthrie Theater, Interact Center for the Visual and Performing Arts, and the screening room of the New York Public Library's Performing Arts Branch. His sound installations have been exhibited at the Walker Art Center's summer series of Sensory Friendly Sundays, the Minneapolis Institute of Art, Glass House, and at the Material Art Fair in Mexico City, Mexico. Michael holds a BA in Global Studies from the University of Minnesota.

Sophie Durbin is an interdisciplinary artist, curator, and researcher based in Minneapolis. She directs programming at Pancake House, a small multipurpose art space. Her work blends artistic inquiry with academic research and focuses on the relationship between the distant past and the contemporary world, with a current focus on the early medieval period. Recent creative projects include curating the Temporary Institute of Early Art, a collaboration with the Hill Museum and Manuscript Library; developing a remote residency program for artists affected by the pandemic; and facilitating a series of Early Object Slow Looking sessions. She is a student at the University of the Highlands and Islands - Orkney College in the MA Contemporary Art and Archaeology program.